WHITE WIDOW AUTOMATIC
White Widow Automatic is another cannabis classic that has rightfully earned a huge following among cannabis enthusiasts. The girl shines with an exquisite taste, good yields, and an ever so intense high. If you wonder where she got her name from, just look to her excellent resin production. Once flowering comes to a close, plants will be covered in a thick layer of sparkling trichomes. Perfect for hash and concentrates!
White Widow Automatic is an ideal specimen for the indoors. With a height that won't exceed 110cm, you won't have trouble finding a nice spot for it—even if space is an issue. This plant goes through its entire lifecycle in a short 10–12 weeks. Get ready to enjoy an awesome mind and body high accompanied by delicious earthy and pine flavours.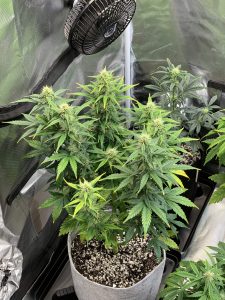 SUPER SKUNK STRAIN / SUPER SKUNK SEEDS
Super Skunk Automatic by Sensi Seeds is their second sequel to a true cannabis classic, the original Skunk #1. This 80% indica boasts pretty much everything that made the original so famous, including an ultra-relaxing and potent effect, and of course the iconic "skunky" smell that deemed her an eternal classic. Sensi Seeds crossed the original Skunk #1 with an Afghani hash plant and a select autoflower—so the girl can deliver quite a punch!
There are several things that make Super Skunk a great option for indoor growing. It is very robust and forgiving, and with a short harvest time of only 7–9 weeks, you won't need to wait long before you can blaze up its buds. The strain doesn't get very tall, so you can easily make some space for it in small closets, tents, and the tiniest of rooms.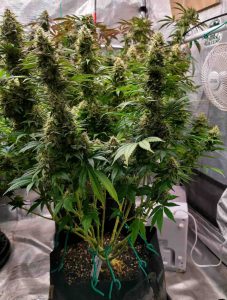 WATERMELON CANDY AUTOMATIC
Watermelon Candy Automatic by Zamnesia Seeds is a high-quality hybrid that takes the finer points of the original and mixes it with a bit of ruderalis to create an autoflowering powerhouse that is sure to win many fans. Regardless of prior experience, she's simply a joy to grow and is extremely easy to maintain. She takes just 9–10 weeks from seed to harvest, so she certainly doesn't delay in delivering a sizeable return of buds.
Watermelon Candy Automatic's high offers the best of both worlds. She begins with her sativa side, providing euphoric and uplifting moments that settle into pure indica relaxation and bliss. Combined with a moreish fruity flavour, there's plenty to like here.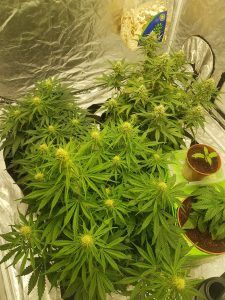 ROYAL DWARF (ROYAL QUEEN SEEDS)
Royal Dwarf by Royal Queen Seeds is an auto flowering masterpiece that can effortlessly flourish indoors and outdoors. Taking just 8–9 weeks from germination to harvest, she's quick to grow and only reaches heights of about 80cm. This makes her extremely easy to control, but also great for growing in smaller areas. Once harvested, she provides an abundance of buds that are sure to satisfy.
Old-school Skunk fans will undoubtedly find her flavor and effects a real treat. Producing a social high followed by a relaxing full-body stone, she also has a tremendous hazy, diesel taste that is perfect for a pipe, joint, or vaporizer.
GORILLA GLUE AUTOMATIC
Gorilla Glue Automatic has won multiple industry awards for its extreme trichome production that can leave trimming shears glued stuck. Gorilla Glue Automatic can reach a medium height with a dense bud structure. This autoflowering strain is easy to grow for beginners and produces a sweet and pungent aroma.
Gorilla Glue Automatic's grow time is between 50 and 60 days and produces a plant reaching almost 40 inches. Gorilla Glue exhibits relaxing and euphoric effects, perfect for medical conditions such as pain, arthritis, stress, nausea, and epilepsy. Be careful, Gorilla Glue has a very high THC content.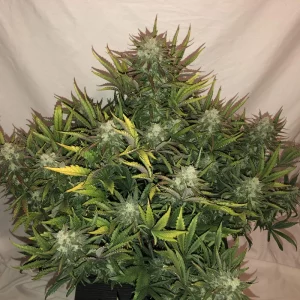 THE BEST CANNABIS SEEDS FOR INDOOR CULTIVATION
These are just some of the strains you can choose if you want to grow great cannabis indoors. No matter which strain you grow—autoflowing or feminized—each has something special to offer!